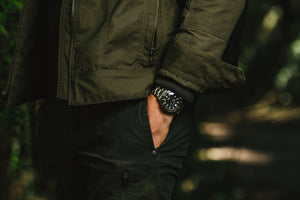 purpose built
Sangin Instruments' watches are simple, functional, and reliable. Looking good no matter what the occasion. Each timepiece is designed, prototyped, tested and inspected in California. Purpose built timepieces by two people who are passionate about building the best tools possible.
Explore
Selection is continuous
Spending our time as Marine Special Operations we found that everyday you had to be better than the last. We bring this same mind set to our timepieces. Every model and every timepiece must be better than the last. Our customers are our friends and peers, they deserve the best product possible.
WITH YOU
Change can be unpredictable. It can be uncertain, unexpected, and fleeting. 
Time is dependable. It's unchanging, expected, and consistent. It works like clockwork because it is, well, clockwork. 
But through all the inconsistencies the future holds, one thing stays constant: the basics of time. And with Sangin, we brought out the brilliance in the basics. Sangin is the constant through it all. 
For whoever you are and wherever life takes you, each piece we produce is put through a rigorous quality control inspection. We work tirelessly to ensure each timepiece at Sangin is as timeless and dependable as time itself.